Yep, love it or loath it, the GTI Clubsport has certianly divided opinion amongst VWROC members. But spare a thought for the team of 13 young apprentices, who as part of their induction were given a bare Golf shell and told to come up with a proper show Golf, whilst the management team marched off to the local Bierkeller. No pressure then!
What the team of 17- to 25-year-old apprentices from five specialties: interior fitting, paint, mechatronics, media design, and materials engineering came up with looks set to be pretty impressive, considering their age and experience.
The exact specifications of the car will remain a mystery until the event, but we're sure it's more than a lick of PlayStation graphics.
We'll keep you posted as news come through.
UPDATE 14-5-15:
GTI Dark Shine Rises....
So today it was revealed that the best students in the world have produced a 395hp GTI with a 3500 watt sound system. Well...they're young, but they seem to have got everything else right. Even the two tone Daytona Grey and R-400 yellow looks good. It also benefits from the usual tuner's box of tricks; ECU re-map, sports exhaust, intercooler and downpipe.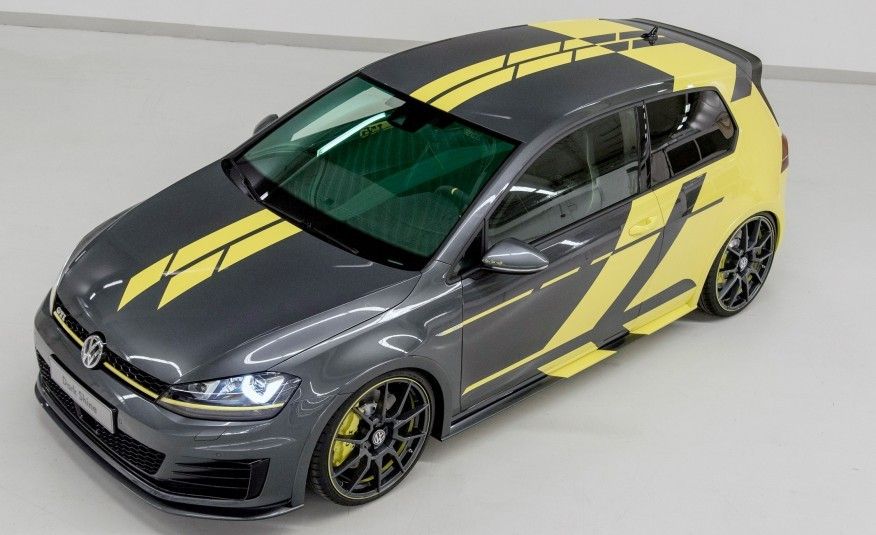 They do love a dungaree in Wolfsburg!