Like most teenage boys I spend too much time thinking about cars, counting the days until I'm old enough to have my driving license and be able to afford my very own car. Even though I'm too young for a driving license, I'm just old enough for a senior racing license which is handy when you are about to make your car racing debut in the 2015 Volkswagen Racing Cup.
The Volkswagen Racing Cup is a national series officially backed by Volkswagen and is part of the British GT Championship weekends. It is televised on Motors TV with a dedicated recorded show with most of the race weekends shown live as part of the British GT Championships live coverage. This isn't a junior championship. It is a senior race series and I'll be on track with experienced drivers in their 20s, 30s and even 40s. I am told that I am going to be the youngest driver on the grid!
It seems crazy that I am about to be in such a high-level of racing with so little experience! I've only had two years of karting and no experience in cars. I've barely had a few hours practice behind the wheel of any car and I am going to be on track with top drivers and former champions with years or decades of racing behind them!
People ask how all this happened. It's kind of a long story (you can read a longer version of the story here and another version of the story there) but the short version is that I was like most kids. Completely lost with no idea of what I wanted to do with my life. School didn't make any sense and I just didn't get the point of a lot of my lessons. Then I found out that I had a bit of talent for driving a kart and I absolutely loved it. Suddenly everything made sense. I had a reason for everything.
Teams want educated drivers
Top teams don't just want a fast driver. They want educated drivers because a part of your job is helping engineers develop the car. Another part of your job is writing articles like this or speaking with the media.
You have to be articulate, able to write well (but like all writers I get help from an editor – thanks Dad), be able to understand what set-up changes will do to the car's performance, be able to understand and analyze data as well as being able to adjust things like brake balance on the fly. You even need to be able to draw reasonably well when making your session notes showing sketches of a corner and the line through it.
The perfect driver would be talented behind the wheel, a public speaker, multi-lingual (to be more attractive to international teams), a journalist, an actor, an engineer, a physicist, an artist and an athlete. I have never worked so hard at school as I do today, now that all this makes sense to me. Most days now I start school at 8am and stay behind to do coursework until 6:30 or even 7pm. I really learned how important all of these things are from my short time in karting.
I've not done this alone
My two years in karting were tough. When I started aged 14, I was racing with people my age who already had up to 7 years experience. This really showed me how much I had to learn on the track and that talent was only a tiny part of getting good at anything. It takes time and hard work!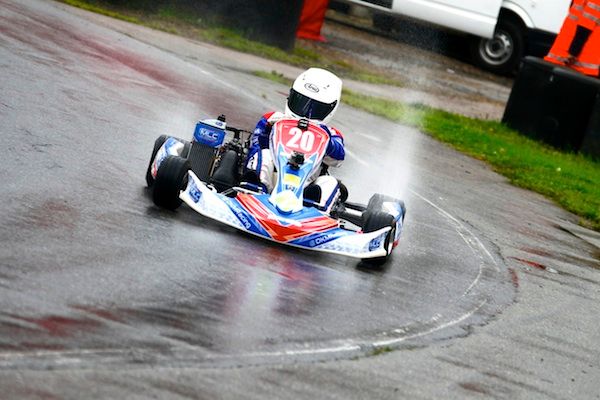 I was very lucky to have some amazing people to help me through these two years. Jason Robinson, former chairman of the Hoddesdon Kart Club and now a family friend; Lee Murray, owner of MLC Motorsport; my mechanics and instructors including Josh Hatton, Chris Appleby and Andrew Rees-Reynolds; my driver coach Terence Dove and my personal trainer Gary Johnson – all believed in me and have done much more than we could have ever have afforded to pay for. Most of all I owe all of this to my dad.
I was down on budget and on experience and had to work hard to make up for it. I did ok though. In my first season I reached 3rd in the Hoddesdon Kart Club Championship at Rye House, where Lewis Hamilton began. I learned a lot off the track too, learning how to market myself. I started a YouTube channel with my dad's help and we started making videos about the things I did in between race weekends. It worked and I was spotted by Tony Gilham of Team HARD.
Tony saw how I had progressed on track even though I didn't have as much experience as a lot of others and they saw how comfortable I was in front of a camera. Tony Gilham, owner of Team HARD is a former VW Racing Cup champion and a BTCC and Porsche racing driver. He told me he saw someone who was determined and was as comfortable behind the wheel as they were in front of the camera. This kind of driver is what people in motorsport call "the complete packageâ€.
The next thing I know, I'm the youngest ever driver to be signed to the team, not to mention also part-sponsored by them, and was well on my way to getting my senior National B racing license and going for my first test in the race car.
Story continues below...
The Car
And what a car! Team HARD's race car is a VW Golf GTi R Cup Car based on a Mk5 shell with a Mk6 front (for looks and aero) running a 2.0L TSi engine producing 250bhp. It rides on racing slicks with Vagbremtechnic brakes to slow it down. With me in the car it weighs in at just over 1200kg. The shell is stripped back to bare metal and the whole car is built from scratch by Team HARD's engineers with a wider track and touring-car style wide-body with the tyres nearly touching the arches. It's practically a touring car except with a bit less power and it has to run an original gear casing with H-pattern linkages. Team HARD also build road cars so I now know exactly what I want my first car to be!
Not a lot of cars on the road can come close to it. I've been out in it three times now (only on track days) and it was noticeably quicker than some Porsches, M3s, R35 GTRs and many other fast road cars on track.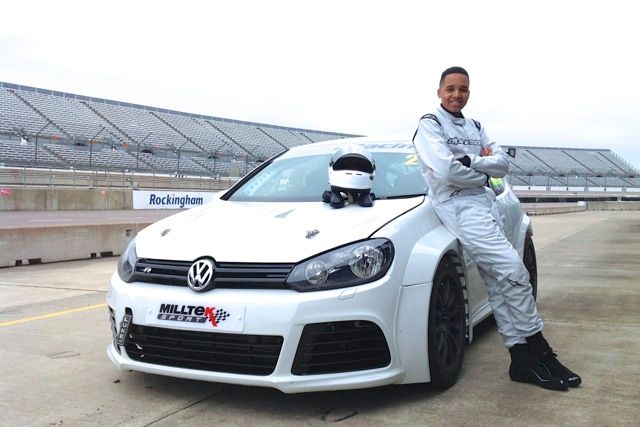 Good times, HARD times
If it wasn't for Tony and Team HARD's sponsorship there is no way we would be able to afford to do this, despite everything my dad has given up (which is basically everything). Even paying for the difference while we try to find more sponsors is a huge challenge. But my dad said we couldn't afford to miss this opportunity, no matter what it takes!
We've made it this far though. Now there's only a short time until my first official test-day and races with other VW Racing Cup drivers. That's when I will really find out how much I have to learn.
Still lots to learn
By my first race I'll have maybe 6 hours in my car and about 2 or 3 hours in any car before that. I'll be on track with drivers with hundreds or even thousands of hours behind the wheel. The only realistic expectation I can have this season is of myself. That I put in 100%, learn as much as I can as fast as I can and focus on making the best progress possible in my abilities over the season.
I really can't wait! Even though I know this season is mostly to learn the circuits and subtleties of tin-top racing, while on track with some incredibly experienced drivers, the racer in me will still be pushing like I'm there for the win! I can't help it. It's who I am and why I know that all I want to be is a racing driver!
Damani has his first race on 4th April 2015 at Oulton Park. You can follow Damani's journey here on VWROC via his regular monthly column. Day to day, keep up to date via Twitter (@DKMRacing), Facebook, Instagram and YouTube. To help keep Damani on the grid, you can back him via his crowd funding campaign and via his Patreon page. Watch out for more exclusive posts from Damani in this column, in the forums and look out for full specs on his car coming soon in Members Rides.